It is my goal to provide Convenient Affordable Legal Services to clients throughout North Dakota. I reach my goal by using a combination of more than 30 years of experience helping clients, low overhead and modern technology.
Today I want to talk about the modern technology. The practice of law has changed a lot since I started law school. While still a law school student I started working for an attorney/doctor who handled medical negligence cases throughout the United States. My boss purchased two Kaypro computers.
This what they looked like. They are the "ancient" ancestors of my MacBook Air Laptop that is now the heart of my office operations.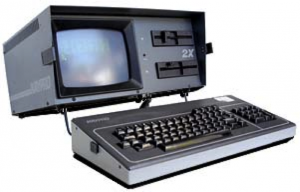 At that time most law offices were using some type of smart typewriter (think IBM Selectric on steroids) or perhaps a smart terminal connected to a large central computer.
The tools available for attorneys to use have changed a lot since then. While my MacBook Air is much more sophisticated and powerful than those first Kaypros, what is even more amazing are the programs available that allow me to tap into the computers power for the benefit of my clients.
Just recently I started using a new computer application to make my practice more efficient. (I am constantly searching for new efficient applications because they are what help me to provide convenient and affordable legal services to my clients.) The new application is Lexicata. Lexicata is a client relationship management (CRM) application that I use in connection with Clio, my practice management application. Lexicata allows me to quickly enter client information at the intake stage of client contact and then transfer the information to Clio.
The bottom line is that technology is changing the practice of law. Modern technology allows me to better serve my clients. Modern technology allows me to keep my office overhead low, which allows me to keep my fees as low as possible. I can get more done faster which means I can charge my clients less.
From your prospective as a client you want the best legal services at the lowest possible cost. I use modern technology to provide my legal services at the lowest possible cost. This look under the hood of my practice will help you understand how I can provide Convenient Affordable Legal Services to all of my North Dakota clients.